Online business and hygiene courses for dental team members of all roles and skill levels.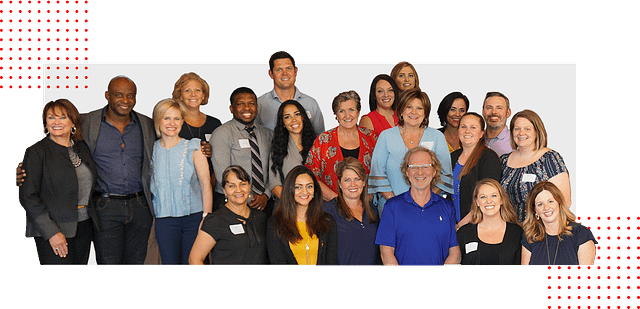 Learn individually or as a team with our curated learning pathways.
Engage with your team and our instructors in your private team group.
Grow your skills and your team. With these tools there is no limit to what you can do!
Over 700 dental professionals trust the Grow eLearning Platform
Build your skills with our e-learning pathways. You'll have the ability to learn at your own pace, pick the topic that interests you most, and track your progress along the way through course quizzes and assessments.
Engage with others on your team in a private group. Interact with each other and your Jameson assigned group leader through group messaging.
With the team learning dashboard, you will be able to view your team's progress and achievements.
You will also be able to manage adding new team members to your account or removing old ones.
Our learning pathways take a deep dive into one particular skillset. This is great if you are new to a role or if you are onboarding a new team member. Some of our most popular pathways are "The Five Star Patient Experience", "Pro Scheduling", and more.
2. Pick Your Learning Pathway
The key to a vibrant practice is a well-managed schedule. Scheduling affects everything and with the right scheduling system, you will have happier customers, a more productive practice, and a happier team.
This pathway will cover how to block your schedule properly, how to handle emergencies, how to prevent broken appointments, and how to make sure you have the right mix of cases to maximize your practice production.
The 5 Star Patient Experience
Whether a patient comes back after the first visit is 90% about the experience they had and only 10% about the clinical service they received.
This pathway takes you through Jameson's patient experience training proven in thousands of dental practice over the last 30 years.
This is a great course for new team members or a great refresher for even the most seasoned team members. It includes role-playing and practical scripting for many different scenarios.
Effective Case Presentation
How are you at getting your patients to follow through and accept the treatment you recommend to them? How is your team at building the value, trust, and urgency for the treatment you provide?
This pathway will cover all the little things that come together to achieve your bigger goal. Getting your patients to understand the value of the treatment you prescribe and moving them towards accepting that treatment and paying for it in a timely manner.
Virtual Learning Pathways
The 5 Star Patient Experience
Effective Case Presentation
Scheduling Like a Pro
All Future Learning Pathways
Role Specific Pathways
Skills Assessments and Tests
PACE CE Credits
Member Only Virtual Events
Dental Business Guide
Searchable Knowledge Base
25 Systems Developed Over 30 Years
Includes Audio Version
Member Only Groups
Library of Downloadable Templates
Team Learning Dashboard (Gradebook)
Live Monthly Q&A (Group Coaching)
Virtual One-on-One Coaching
Practice Assessment and Goal Setting
Goal Accountability
Practice Intelligence (Statistics)
Virtual Team Training
Leadership Training
Email/Phone/Chat Support
Annual Fee Schedule Review
Virtual Learning
$199
Mo / Location / 15 Users
Virtual Learning Pathways

The 5 Star Patient Experience

Effective Case Presentation

Scheduling Like a Pro

All Future Learning Pathways

Role Specific Pathways
Skills Assessments and Tests
PACE CE Credits
Member Only Virtual Events
Dental Business Guide

Searchable Knowledge Base

25 Systems Developed Over 30 Years

Includes Audio Version

Member Only Groups
Library of Downloadable Templates
Team Learning Dashboard (Gradebook)
Live Monthly Q&A (Group Coaching)
Virtual One-on-One Coaching

Practice Assessment and Goal Setting

Goal Accountability

Practice Intelligence (Statistics)

Virtual Team Training

Leadership Training

Email/Phone/Chat Support

Annual Fee Schedule Review
Virtual + 1 on 1 Coaching
REQUEST A QUOTE
Virtual Learning Pathways

The 5 Star Patient Experience

Effective Case Presentation

Scheduling Like a Pro

All Future Learning Pathways

Role Specific Pathways
Skills Assessments and Tests
PACE CE Credits
Member Only Virtual Events
Dental Business Guide

Searchable Knowledge Base

25 Systems Developed Over 30 Years

Includes Audio Version

Member Only Groups
Library of Downloadable Templates
Team Learning Dashboard (Gradebook)
Live Monthly Q&A (Group Coaching)
Virtual One-on-One Coaching

Practice Assessment and Goal Setting

Goal Accountability

Practice Intelligence (Statistics)

Virtual Team Training

Leadership Training

Email/Phone/Chat Support

Annual Fee Schedule Review
Check out our personal virtual learning plan. Just $29/mo